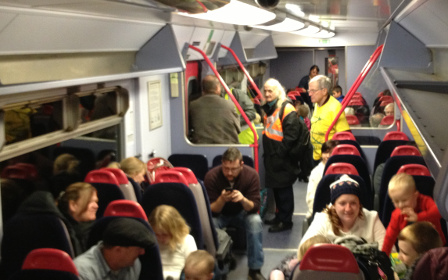 The TransWilts Community Area Partnership is a division of the TransWilts Community Interest Company. - See [here] for TransWilts Vision2020

Timetable to December 2017 - download from [here] Updated 30.9.2017

Melksham Station, the way forward - presentation [here]
"Melksham Past, Present, Future" talk - [here]
Designation Announcement - [here]. What it means [here]

9th November 2017 - Chippenham Rail User Group, 19:00, Monkton Hill, Methodist Church Hall
29th November 2017 - Melksham Rail User Group, 19:30, Whitley, Methodist Church Hall

Where does the railway get its money?
• From fares - "farebox"
• On socially / economically supported services, from Central Government
• In some areas from local council financial support. That's happening for 3 years via a local sustainable transport fund (LSTF) grant from the Department for Transport.

The government funding is a two way thing, in that the companies who run the trains bid a price for the right to do so in a franchise that runs for number of years, and this may result across the franchise as a whole in a net payment to government - in effect a tax on train use.
Train fares on the TransWilts
Prices on this page checked / updated August 2016

Stop Press With the introduction of the additional trains from 8th December, First Great Western have introduced new "Via Melksham" fares for journeys from Swindon and Chippenham to Trowbridge and Westbury. They are significantly LOWER than "via Bath" or "any Route" tickets.
---
You can always buy your ticket when you travel (if you're going to do that, you should arrive at the station at least 10 minutes before your train is due to leave in case there is a queue) or in advance (and you might get a better price if you do so)

Reduced fares are available for children from 5 to 15 years old, and children under 5 travel free.

Buying on the day

You'll need to decide whether to buy a single or a return ticket, and if you buy a return ticket you'll need to know if you're coming back the same day or on a later date, and whether you'll be coming back on a peak time train.

At all stations except Dilton Marsh, you must buy your ticket before you board, or you may be liable to pay a very high or penalty fare. There is an exception made to this rule if there are no facilities to buy the ticket at the station - very late at night at a station without an automatic ticket machine, for example, or if the machine is out of order.

At Dilton Marsh, you may join the train without a ticket and purchase one at the first opportunity from the conductor, and at Melksham you may buy from the conductor if paying in cash or wanting a ticket the machine doesn't offer.

Note that many special deals, such as "Groupsave" which allows groups with 3 or more adults to travel for 34% off regular off-peak fares, and Ranger and Rover tickets which give flexible travel within an area for a day or a number of days, may be bought on the day.

Various railcards, which give discounts, are available - there's a young person's card, a senior card, a disabled card, and a forces card, all of which have slightly different terms and conditions attached to them. There is no loyalty railcard which you can buy if you are a regular traveller but make different journeys.

Buying in advance

There is a wide range of advanced fares available on Great Western trains. Although they usually apply to longer journeys, they may include part of their route on the TransWilts. Such fares are often very good value, but you often have to travel only on the train specified, and will be considered to have no ticket (and thus be subject to a very high fare such as a penalty fare) if you travel on another.

Advanced tickets can be ordered by phone or online, and can be posted to you or picked up at ticket machines at some stations. Note that if you buy an advanced ticket from stations such as Melksham, where there is no ticket machine, you will need to have it posted to you well in advance or make a journey to another station to collect the ticket ahead of time.

Residents of non-UK countries can also buy special tickets known as "Britrail" before they travel to the UK. They are more flexible than most advanced tickets, and are usually much lower cost than tickets bought at the time of travel.

For regular travellers

Season tickets are available, and will save you money if you make the same return trip 3 or more times per week.

Some example fares ...

Rail fares have a reputation of being very expensive in the UK, but most of the TransWilts fares are very good value at around 18 to 25p per mile. There are some bargains - the Swindon to Weymouth groupsave quoted below for example - at under 5p per mile

Adult, buy on the day.

Day return, Melksham to Swindon £9.50 (Monday to Friday) or £6.80 (Saturday and off peak)
Single, Chippenham to Trowbridge £5.00, return £6.20

You are allowed to buy two tickets for a journey. Take for example a journey from London to Melksham, which you can make on a London to Didcot and Didcot to Melksham ticket pair. It's not valid on the 17:45 from Paddington, but it is valid on the 17:30 which stops at Didcot and you can occasionally save a lot of money!

Day return, Chippenham to Weymouth £17.00 (off peak fare, valid on Saturdays and Sundays, and on most Monday to Friday trains) £8.50 for children.

If you book online at the Great Western website and are eligible for Groupsave, it will automatically be offered. Note that when you enter for multiple people, you will be given a total price and nota price per person!

Further Information

http://www.gwr.com/
http://www.firstgreatwestern.info/coffeeshop/index.php?topic=4254.0
http://www.britrail.com/
---
TransWilts Community Rail Partnership - http://www.twcrp.org.uk - info@twcrp.org.uk





FARES

Journeys to, from within and through Wiltshire