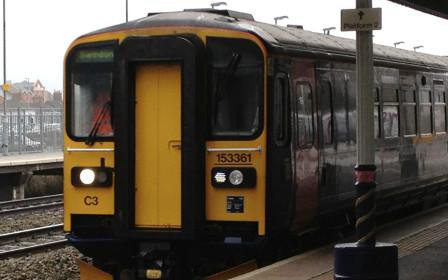 The TransWilts Community Area Partnership is a division of the TransWilts Community Interest Company. - See [here] for TransWilts Vision2020

Swindon - Chippenham - Melksham - Trowbridge - Westbury

Passenger forum - Devizes - 19th September. ALL Public Transport! See our home page or our Facebook event or our forum


Autumn 2015
There were probably more trains on the TransWilts in August than there had EVER been before as the line was used for diversions all month during engineering works near Bath. And we learned a great deal about the capacity of our line - almost all good stuff that stands us in good stead for the future.

---

19th September, Cheese Hall, Devizes. 10 for 10:15. TransWilts Transport Forum.

Interested in the future of public transport in Wiltshire? Please join us on 19th. What services should run in the future? How do we best integrate and promote public transport and make them work in a time of reducing subsidy? Information systems and working our what people want. "Friends of TransWilts". Whether you're available to help us, or just want to come and listen you'll be very welcome. No need to book, but nice if you can let us know so we have rough numbers - secretary @ transwilts.org or via the forum or Facebook page.

"TransWilts"'s objective is to carry on activities which encourage and promote increasing usage of public and sustainable transport for benefit of people living in, working in and visiting Wiltshire. In particular we represent the interests of local transport users including rail, bus, cycle and other special interest groups in Swindon and Wiltshire, promoting improved connectivity between local services and national networks. Working with Wiltshire and other government organisations, with the rail industry and with the community our TransWilts Community Rail Partnership section has already helped boost passenger numbers on the Swindon to Westbury railway line during the current 3 year trial and we're now encompassing buses (connectional and otherwise) and sustainable transport to help affordably promote all publci transport in the county.

We're holding this meeting in DEVIZES as it'e easily reached by bus from all directions, and our 10 for 10:15 start fits neatly with bus schedules. Please ask if you need assistance in getting to the meeting.

Getting to Devizes that morning ... here are the services:
---

The TransWilts Community Rail Partnership (TWCRP) is a group of like-minded organisations seeking to make better use of the TransWilts railway line.The partnership aims to achieve positive, sustainable and imaginative development of the TransWilts railway in ways which also benefit the places it serves, including enhancement of services to meet the current and future travel requirements of those places. It sees the line as an essential link for the local communities and businesses along the route, and as part of the projected strategic north - south rail link through an area experiencing major expansion. The TWCRP liaise with all interested parties to promote the social, economic and environmental prosperity of the local communities.

We are proud that these organisation have provided significant assistance in achieving the recent improvements in train services on the section of line from Swindon to Westbury:


News - what's going on?
Here's what has happened recently (see top banner for upcoming events!)
These events and others, and other news, don't just spring from no-where. There's discussions, planning and preparations going on too ...

5th / 6th April - To London, Oxford, Bristol - spring opportunities [link]
12th / 13th April - TrainWest, Melksham - come by train [link]
16th April - TransWilts admitted as full ACoRP member - [here]
Easter Weeks - Melksham to Weymouth by train - [link]
26th / 27th April - To Oxford, Swindon, London - spring opportunities

1st March 2014 TWSW, Taunton
5th March 2014 ACoRP board considered our memberhip application
More Qns - approved only in principle
11th March 2014 Melksham Forward
12th March 2014 Buses, BATH
13th March 2014 LSTF review, TROWBRIDGE
21st March 2014 TwCRP Officers
22nd March 2014 TransWilts Link, the Laverton, WESTBURY [details]
27th March 2014 Transport Minister Stephen Hammond visits Melksham Station
27th March 2014 WWRUG AGM - Bradford-on-Avon
31st March 2014 FGW / TwCRP liaison


7th February 2014 ... TransWilts CRP AGM, Trowbridge
1st March 2014 ... TravelWatch SouthWest, Taunton
22nd March 2014 ... TransWilts Link, The Laverton, Westbury
17th May 2014 ... Summer train service timetable starts

30th December 2013 ... Melksham Rail Development Group and TransWilts Rail CRP

18th December - New sign board at Melksham and additional parking spaces

9th December - First new weekday commuter train

8th December - Start of new service / First train waved off

Adverts in Newspapers, leaflet distribution, BBC local radio - lots of activity to tell people that there's now a useful train service running on the TransWilts line and getting them to try it out.

6th November - Swindon - 18:30 - venue t.b.a.

15th November - Westbury - Railway Tavern, 18:30

19th October 2013 ... TransWilts Link, the Laverton, Westbury. An excellent meeting with some really knowledgeable people, looking at issues from the present to the far future, meeting notes initially at [here]
Secretary's record of the meeting TransWilts Meeting Notes 191013.pdf


10th September 2013 ... Passenger Survey, Bradford-on-Avon; 17th September 2013 ... Passenger Survey, Westbury; 25th September 2013 ... Passenger Survey, Salisbury.
We've had volunteers at the station to count people onto the very first trains, to talk with them and to learn about their journeys. Picture - arriving at Westbury for the 05:24 to Salisbury.



31st August 2013 ... Special Meeting to formally adopt our constitution. Download approved constitution [here] and report of meeting [here]. Finally, there's the published minutes of the Public Meeting, [here].




26th August 2013 ... First Great Western retimed the morning train on Bank Holiday Monday to give residents of Melksham a day-trip opportunity to Weymouth. See [here] for Melksham Summer 2013 timetable including special days and [here] for a report on the day.


23rd July 2013 ... Fifteen of our volunteers assisted Wiltshire Council and Atkins (their consultants) in a survey of passengers departing from Chippenham Station. See [here] for picture report and [here] for Chippenham / South summer 2013 timetable including special days.


8th June 2013 (follow up to February 2013 and December 2012). "TransWilts Link" is a meeting of community groups right across Wiltshire (and just over the borders where transport links go to neighbouring counties too) to provide a connected and informed discussion and input to travel planning professionals and elected representatives in our area, and to help share experience and best practise. Meeting report [here].


28th May 2013 ... We took the opportunity of a change of train times on the May Day public holiday to publicise the possibility of a day trip to Weymouth ... we limited that publicity to avoid an over-full train and as many people as possible had a great day out! Trip report [here].

We're updating the TransWilts web presence too as we move from being a group of campaigners who were looking to convince the powers-that-be that the train service offered wasn't appropriate into a group that's fully supporting and working with all parties now that a consensus has been reached. We're no longer exchanging views over what we want to achieve - we're now working together so we can achieve a common goal!
About this site
You're at our home page! Whether you're here to find out about train services, to look for ideas for days out, to volunteer to help us, or to support our work for an improved train service, we have a page for you.


The TransWilts Community Rail Partnership is working alongside the Wessex Association of Chambers of Commerce, Wiltshire Council, Network Rail, and First Great Western under the banner "Trans Wilts Rail".

We have a number of domains set up for future use ... all hosted here at present:
http://www.transwiltsrail.org.uk - The main public information site
http://www.transwilts.org.uk - marketing the use of the line. Day trips, etc
http://www.twcrp.org.uk - Partnership organisation, admin, meetings and discussions
http://www.transwiltslink.org.uk - Connections and connectional services. Part of a network

The following sites may also be of interest
[link] to Press Officer's blog / articles on TransWilts topics [link] Passenger discussion forum - train services and other public transport in the Thames Valley and South West of England
[link] First Great Western company site - our current train operating partner.
---
TransWilts Community Rail Partnership - http://www.twcrp.org.uk - info@twcrp.org.uk





OUR LINE

Community Rail Partnership

Swindon

Chippenham

Melksham

Trowbridge

Westbury

Dilton Marsh

Warminster

Salisbury



• Change at Swindon for Didcot, Reading and London (Paddington)

• Change at Chippenham or Trowbridge for Bath and Bristol

• Change at Westbury for Weymouth and the West of England

• Change at Salisbury for Southampton and Portsmouth, Basingstoke and London (Waterloo)